About J Thomas Homes
At J Thomas Homes, we build the homes and communities that people want to live in. With over 30 years of homebuilding experience, we have become experts at new home construction and have built hundreds of homes along the Wasatch Front. Now, we want to help you not only build the home of your dreams, but do it all at an affordable cost.
J Thomas Homes

: Luxury MINUS the Cost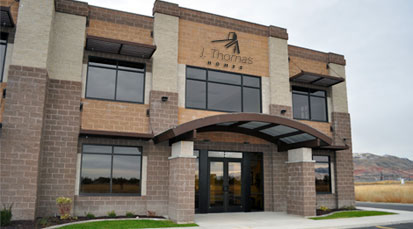 Following the recession, many families struggled to make ends meet and purchasing a new home seemed like an impossible dream. We all felt those difficult times and our team used those challenges to rededicate ourselves to building high quality homes at an affordable price. As a medium-sized home builder, we have the volume to build homes at a lower cost and we pride ourselves on passing those savings on to you.
Our communities are designed to be an ideal place for families. Surrounding schools and shopping are closely accessible and the beautiful sights of the Wasatch Front are never more than a short drive away. More than that, we also have regular community events ranging from holiday parties for kids to DIY workshops for home improvement projects.
It is one thing to build you a home, it is another to stick by you every step of the way. It can be scary purchasing a home and we want to make sure that you feel comfortable planning, purchasing, and living in your new home. We do all that is necessary to make ourselves available and our agents are specially trained to help you choose everything from floor plans to mortgage lenders.
A simple idea drives much of what we do at J Thomas Homes. We show up to work each day and strive to create the best product possible. So, whether you are a first time home buyer or looking to purchase a quality house or townhome in Utah, you can rely on J Thomas Homes to deliver. Contact us today!
J Thomas Homes

: Setting Ourselves Apart in Value and Quality
In-House Countertop Shop
Did you know we make all our own granite & quartz countertops from scratch?
In-House
Cabinet Shop
We control the quality of our cabinet doors by having our own manufacturing shop.